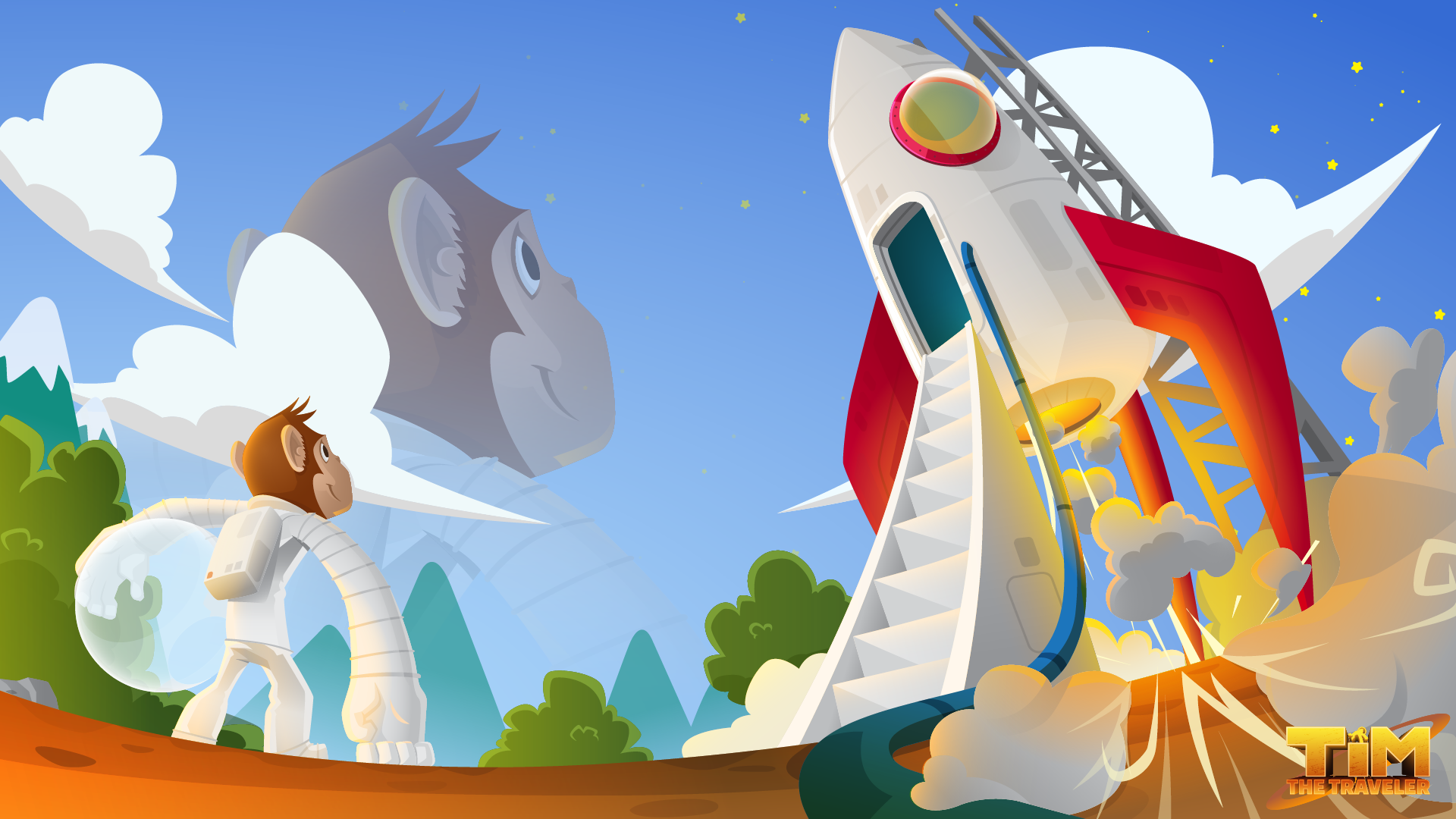 Tim The Traveler
Finally, you can travel through space on an adventurous journey guiding Tim, a space astronaut, safely back home to his foster parent, a scientist.

Tim The Traveler is an astronaut's exciting space journey as he finds his way back home from a space mission.

Tim was rescued and raised by a scientist on a special farm and is gifted with unique skills and high intelligence. His adventures begin when the scientist launches him into space on an exploration program but Tim's rocket soon loses touch with home planet.

Tim is alone in space! He knows he must traverse seven planets to return home and only you can steer him on his journey home!

Tim The Traveler is space exploration game with high quality 2D graphics and addictive music that provide hours of fun. Spread over seven planets with 40 levels each, you must clear 280 levels, solve mind-boggling puzzles, fight gravity, escape velocity and special boulders to take Tim back to the safety of his home.

Here's why you should download Tim The Traveler now:

- Unique puzzle mechanics to test your logic and cognitive abilities, keeping your brain engaged constantly
- An engaging gameplay combined with fantastic art style across 280 levels for hours and hours of play
- Explore seven interesting planets and experience reverse gravity firsthand!
- Amazing graphics and engaging sound effects for maximum entertainment

Tim The Traveler, a free game (with in-app purchases) provides an immersive user experience as the player journeys with Tim across the length and breadth of space, fighting boulders and gravity while solving interesting puzzles of varying difficulty, giving their brains the much needed mental exercise.

Reviews:
-https://medium.com/@zeeshanjabbar/tim-the-traveler-app-review-65ae5b9c3e75
-http://www.askyourandroid.com/games/tim-the-traveler-android-game-app-review/ (Ask Your Android)
-http://reviewtheapps.com/tim-traveler-astronauts-exciting-space-journey-puzzle-g...
-http://gamereviews.co.in/tim-traveller-android-game-review/

YouTube Reviews:
English-

Hindi-

Also listed on
http://gamedev.nasscom.in/game/tim-traveler

You can download the game for free from Google Play or use the following link:
https://play.google.com/store/apps/details?id=com.shepherdgames.timthetraveler

We're on Facebook and Twitter - join us on your networks to learn about our newest games and other news updates:
Facebook – https://www.facebook.com/theshepherdgames/
Game Page - https://www.facebook.com/TimTheTraveler/
Twitter - @Shepherd_Games

Game discussions: https://www.facebook.com/groups/1271681519612775/

Enjoy playing Tim The Traveler, the ultimate space exploration game? We'd love to hear your comments and answer any queries you may have. We endeavour to constantly improve user experience and greatly treasure your feedback that you may mail at shepherdgamespublisher@gmail.com.
Also available on